Are you a Bajan who is stuck at home right now?
Or maybe a visitor whose trip to the island has been cancelled?
The wonderful webcams by IWCP are a fun way to see what's going on around Barbados and enjoy some of our amazing sights!
The cameras cover beaches, surfing spots, Oistins, St Francis Catholic Church and more.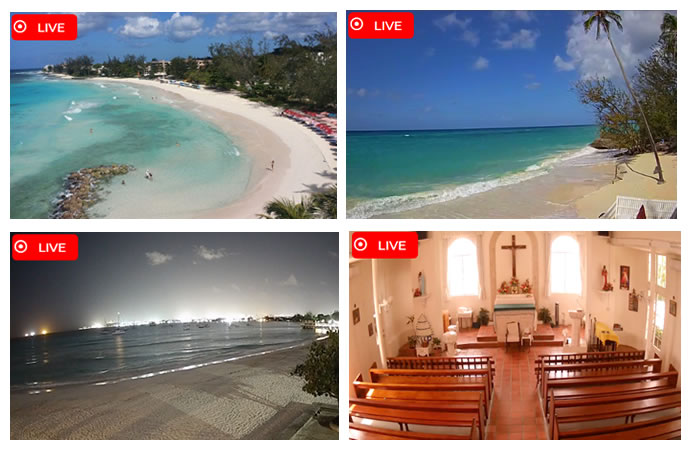 ---
Why I Love Webcams
Because webcams provide realtime views they are the most accurate depiction of the location. This is always a plus but is particularly important during unusual events such as storms and the COVID-19 lockdown.
For Bajans and repeat visitors it's helpful to see what's happening at a favourite location such as work being done on the boardwalks. Increasingly local churches are also using this technology to broadcast their services. And of course the traffic cams help drivers to bypass the most busy routes.
For the snowbirds and other regular visitors to Barbados the views served up by these webcams are a warm reminder of good times spent on the island and a preview of trips to come!
For local and visiting surfers a quick look at Surf Bowl cam (by Surfline) or the Freights Bay cam quickly reveal the current conditions, helpful for finding the best waves of the day.
Web cams also serve as a great trip planning tool, helping first time visitors know what to expect and which sites they should include on their travel itinerary. Real-time views of Barbados can also influence travel decisions and attract new visitors.
From a destination marketing perspective, webcams can be embedded directly on the best Barbados websites, streamed live to social media, and featured on TV news and shows.
Currently most of the Barbados webcams focus on beaches (and understandably so) but it would be wonderful to see this expanded to venues such as our beautiful botanical gardens, Barbados Wildlife Reserve, and historic sites.
History Lesson :)
The first Barbados webcam that I recall was setup in Maxwell by the Club Mistral watersports center. This is way back in the 1990's or maybe early 2000's. Back when bandwidth was at a premium and video quality was pretty poor. Still it was a very innovative project for its time and probably did entice some windsurfers and kitesurfers to visit our shores.
Royal Westmoreland was also a pioneer in this area and now provide webcams at both the golf resort and their Mullins beach club.